Healthcare
Today's healthcare organizations face significant challenges in the mission to deliver quality patient care, from infection prevention, regulatory pressures, constant infrastructure changes, and increasing demands to reduce energy consumption and emissions. Healthcare providers need a partner who can help them address this diverse range of issues. EH&E is that full-service partner. We uniquely combine engineering, environmental health and safety, and scientific expertise under one roof to meet the varied needs of the healthcare environment.
Our Services:
Accreditation & Regulatory Compliance

Our experts specialize in providing compliance support related to the physical environment, including Environment of Care, life safety, and emergency management needs. We help clients remain abreast of the latest updates and requirements from the Centers for Medicare & Medicaid Services (CMS), The Joint Commission (TJC), DNV Healthcare, and the Accreditation Association for Ambulatory Health Care (AAAHC) related to the physical environment. Clients benefit from our insight into emerging issues gleaned from ongoing research and discussions across leading health systems, pooling together a broad well of knowledge on how healthcare organizations can enhance their care environments and remain ahead of changing compliance demands.

Find out more about how we can simplify regulatory compliance and the accreditation process.

Biosafety

We provide a full range of biosafety services that include individual risk and program gap assessments designed to ensure facility safety and compliance, as well as broader assistance in launching and enhancing effective biosafety programs with fully trained teams. Through our support services, many organizations trust EH&E to serve as an extension of their staff.

We bring to every engagement a team of credentialed experts holding a wealth of hands-on biosafety experience. This includes Certified Biosafety Professionals (CBPs) and Registered Biosafety Professionals (RBPs) accredited by ABSA International, an independent biosafety organization.

Learn more about our biosafety consulting services.

Commissioning

Healthcare facilities are one of the most dynamic and high-stakes environments, making it critical to ensure building system performance from the start and to routinely verify performance throughout the life of the building. EH&E's commissioning team has in-depth knowledge of healthcare operations and their highly complex systems and equipment as well as infection control and compliance requirements.

Whether you are retrofitting an operating suite, expanding a patient wing or building a new facility, we can help. Our commissioning professionals are highly experienced in troubleshooting and resolving the engineering challenges encountered in these sensitive environments.

Learn more about our commissioning services.

Energy Optimization

Our team brings together mechanical engineering, building science, and environmental expertise, alongside infection control and compliance insight to build a holistic and strategic approach to improving health care building performance without compromising patient and staff safety and comfort.

Learn more about EH&E's energy optimization program that provides impactful opportunities for health care facilities to improve their carbon footprint in the immediate-to-short term.

Environmental Compliance & Management

With ever-changing regulatory requirements, it can be challenging to ensure environmental compliance, especially during construction and  property redevelopment. EH&E's interdisciplinary team of scientists and engineers holds broad expertise that enables our team to address a wide range of environmental compliance issues.

Find out more about our environmental compliance and management services, which range from permitting and compliance gap assessments to hazardous materials assessment and environmental due diligence, and more.

Health & Safety

EH&E's breadth of expertise allows us to be a single source for all of our clients' health and safety needs.

Our healthcare practice team are recognized leaders in their field and bring unparalleled experience from their knowledge of program operations in a variety of healthcare settings.

We are directly responsible for the management of environmental, health and safety programs for numerous leading healthcare institutions. Our hands-on experience gives us a unique insider's perspective and practical advantage in providing solutions that make the most sense for each institution.

Learn more about our health and safety services.

Indoor Environmental Quality

Maintaining good indoor environment quality (IEQ) is vital especially in the healthcare setting. IEQ is directly linked to infection control because of the role it plays in protecting patients and healthcare workers against hospital acquired infections and occupational diseases.

IEQ is affected by many complex interrelated factors. A single change to the types of building systems in use, the activities taking place in a space, or facilities management practices can impact the entire indoor environment. The frequent construction, renovation and maintenance activities that occur in healthcare facilities can negatively impact indoor environmental quality and present infection risks.

For over 30 years, EH&E has been recognized as the leader in indoor environmental quality. To tackle the complexities of IEQ in the most sensitive environments, we bring a broad team of highly trained professionals in industrial hygiene, toxicology, engineering, chemistry, environmental science, building engineering, and related fields.

Find out more about our IEQ services.

Infection Control & Prevention

EH&E specializes in mitigating the infection risks of the physical environment and offers all the required expertise under one roof – infection control specialists, compliance experts and engineers – for highly effective infection prevention programs. Patient infections related to the physical environment are preventable. Our experts help you assess and understand the risks in your hospital and establish programs that mitigate those risks to protect patients and staff and to minimize liability to your hospital.

Learn more about how EH&E can support infection control and prevention at your hospital.

Strategic EHS Staffing

Leverage the full range of EH&E's multidisciplinary expertise with strategic EHS staffing delivered in a way that is tailored to your demands. We help organizations fill temporary and long-term EHS staffing needs, through onsite or remote arrangements, and full- or part-time as needed. Our team's combination of expert support and an extensive portfolio of validated EHS programs has been proven to help organizations reduce risks and better manage costs.

USP 797/800

Our team of experts can help you improve compliance and pharmacy operations and implement best practices to deliver safe medications. Our experts have deep knowledge of infection control, compliance, engineering and industrial hygiene combined with an understanding of pharmacy operations, that enables us to deliver realistic solutions for compliance and patient safety.

In addition to compliance, we can provide support with environmental monitoring and investigating and mitigating contamination. Learn more about how we can help.
EH&E's multi-disciplinary approach and focus on evidence-based decision making helps hospitals achieve optimal performance from their people and facilities to provide superior patient care. And we do it with minimized disruption to sensitive hospital operations. Our healthcare practice team delivers:
Successful, streamlined compliance strategies based on a wealth of experience in hospitals of all sizes and types.
Greater compliance and optimal facility performance for improved patient and staff safety, lower cost of operations and reduced organizational risk.
Integrated engineering and safety solutions that resolve the root-cause of performance and operational issues.
Meaningful data and metrics from facility and compliance programs for informed decision making.
Optimized performance services that maximize HVAC system operation and energy savings.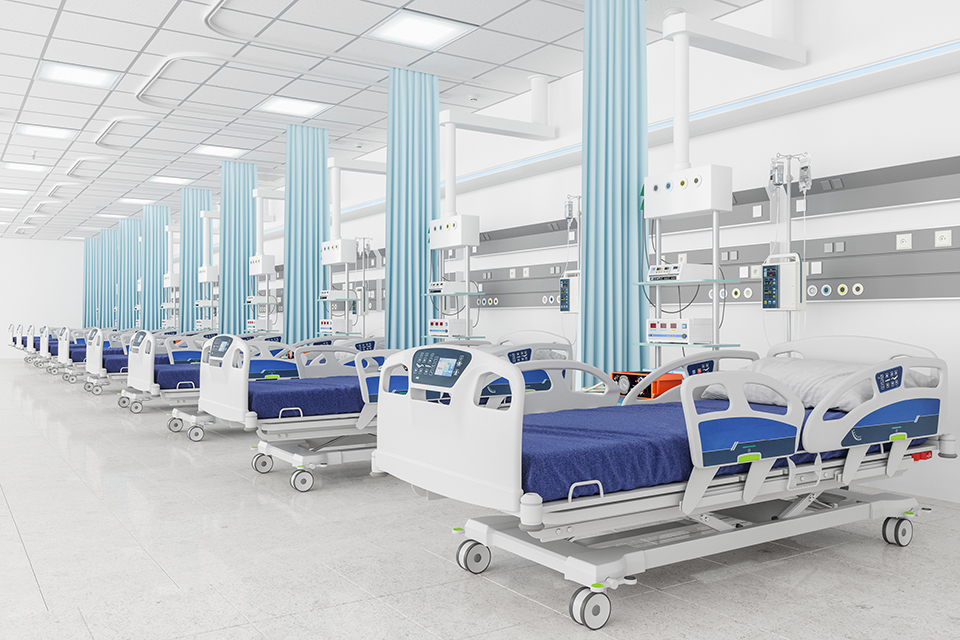 Expert Guide
Guide to Infection Prevention through Care of the Healthcare Facility Environment
---
Get a deeper understanding of today's hospital infection risks specifically related to the physical environment - and how to prevent them.
Contact EH&E today to speak with an expert.
Integrated safety and engineering solutions for superior patient care.