Infection Prevention and Control in Healthcare
Hospital acquired infections (HAIs) are an escalating problem across the US, placing hospitals under increasingly intense financial and regulatory pressure to mitigate the risks. Consequently, the impact of the physical environment on infection control has also received greater focus in recent years. There are high-risk areas in the physical environment such as construction activities, ventilation and potable water systems, that if not closely managed can present significant risk to the health and safety of patients.
EH&E specializes in mitigating the infection risks of the physical environment and offers all the required expertise under one roof – infection control specialists, compliance experts and engineers – for highly effective infection prevention programs. Patient infections related to the physical environment are preventable. Our experts help you assess and understand the risks in your hospital and establish programs that mitigate those risks to protect patients and staff and to minimize liability to your hospital.
Our Services:
Infection Control Risk Assessment

EH&E helps organizations assess water, ventilation, and other essential building systems to control the risk of potential infectious organisms reaching their vulnerable populations. Our diverse range of expertise helps us to identify the source of potential risks, as well as potential pathways by which these risks may reach vulnerable patients. In addition to performing or supporting your risk assessment process, our team can advise on and implement mitigation measures to eliminate future risks.

Outbreak/Cluster Investigation & Response

Outbreaks can occur even with the best planning in place. EH&E's multidisciplinary team is equipped to respond at the first indication of an outbreak or isolated case of infection. In fact, EH&E specializes in particularly daunting infection issues that defy easy investigation. Our experts can provide testing to rapidly identify sources of infection, epidemiologic investigations that identify causative factors, and exposure and risk analyses. With this understanding, our building engineers can develop strong remediation plans and oversee implementation.

Pharmacy Environmental Monitoring and Contamination Investigation

Heavy workloads in the mission to deliver patient medications is the most common barrier to effective environmental monitoring programs when undertaken using in-house resources. For large hospitals with multiple pharmacies, the volume of environmental monitoring sampling required is an added barrier.

EH&E offers hospitals a team of industrial hygienists with deep knowledge of the pharmacy environment to deliver effective and compliant environmental monitoring programs. Equally critical, in the event of a contamination, our industrial hygienists team with our engineers to quickly evaluate the root cause of contamination and implement corrective measures.

Learn more about how we can help.

Pre-Construction Risk Assessment (PCRA) and Monitoring

Healthcare facility renovations or construction projects of any size carry a risk of exposing patients to dust and mold spores, noise, vibrations, odors, or chemicals. Our team has the highly specialized expertise needed to provide risk assessment and mitigation services to ensure that construction policies and practices are designed and implemented to maintain patient safety during construction projects.

Prevention & Monitoring Programs

Whether you need support in structuring your infection prevention program, or long-term or continuous monitoring for certain infectious organisms, EH&E can help. We provide risk prevention planning and monitoring services for water and other essential building systems, as well as construction sites located near vulnerable populations. Paired with dashboards and real-time alerts as conditions change, your teams can trust that they'll be able to take action to update control strategies before risks emerge.

Respiratory Protection

EH&E supports healthcare organizations with respirator fit testing and use recommendations to meet their changing needs. Following OSHA requirements and AIHA recommendations, we ensure your team is protected against your targeted hazards. Our team can also provide the program planning, documentation support, and training that keeps you in compliance.

Space Pressurization Assessment for Infection Prevention

Airflow provides an easy pathway upon which potential infection causing bacteria, viruses, or mold spores can travel. Ensuring proper levels of pressurization is critical to minimizing infection risks.

An often made and incorrectly held assumption is that a hospital's existing mechanical system is configured for proper ventilation and pressurization, simply because it was at the time of design. Unfortunately, even if the initial design met the standard, that doesn't mean it remains in compliance.

EH&E's space pressurization assessments begin with a current inventory of areas requiring specialized pressurization. We perform onsite testing per applicable design and construction guidelines and provide support for resolution of any deficiencies uncovered during the assessment.

Water Management Plans

Due to the high risk of transmitting hospital acquired infections (HAIs) via water, the Centers for Medicare & Medicaid Services (CMS) requires that Medicare-certified healthcare facilities have water management policies and procedures in place. We help hospitals develop robust, fully compliant programs that align with best practices from the CDC and other relevant organizations. To tailor the plan to your facility's specific risks, our team of industrial hygienists and engineers perform an assessment that involves a facility inspection and interviews with key personnel to identify vulnerable components within water systems and susceptible populations.

Alternatively, if your hospital already has a water management plan, our team can serve as an independent review to uncover any gaps or deficiencies, giving assurance of compliance and that patients are safeguarded from waterborne infection risks.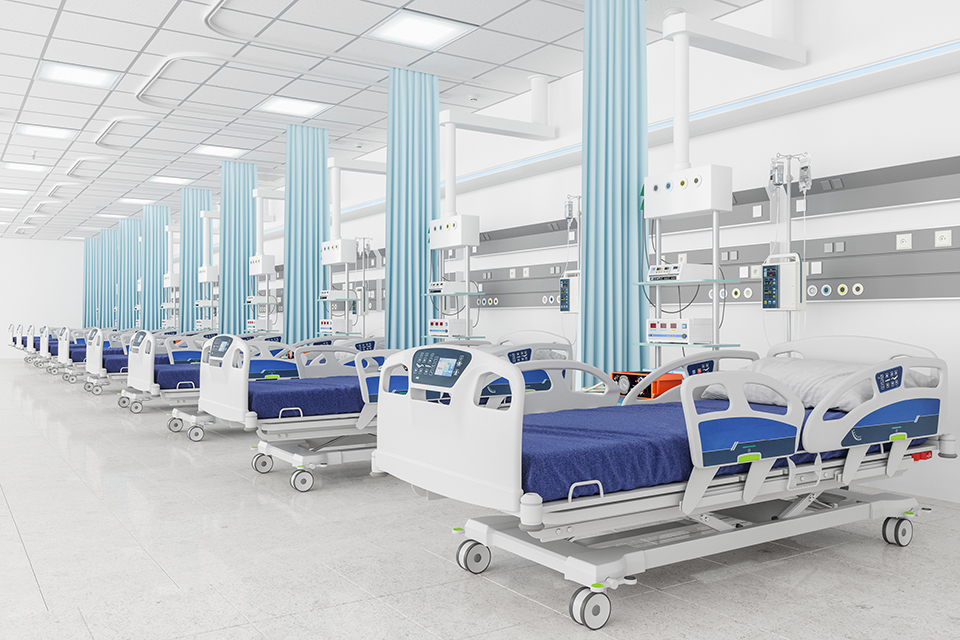 Expert Guide
Guide to Infection Prevention through Care of the Healthcare Facility Environment
---
Get a deeper understanding of today's hospital infection risks specifically related to the physical environment - and how to prevent them.
Contact EH&E today to speak with an expert.
Integrated safety and engineering solutions for superior patient care.