BERDO 2.0: Compliance FAQ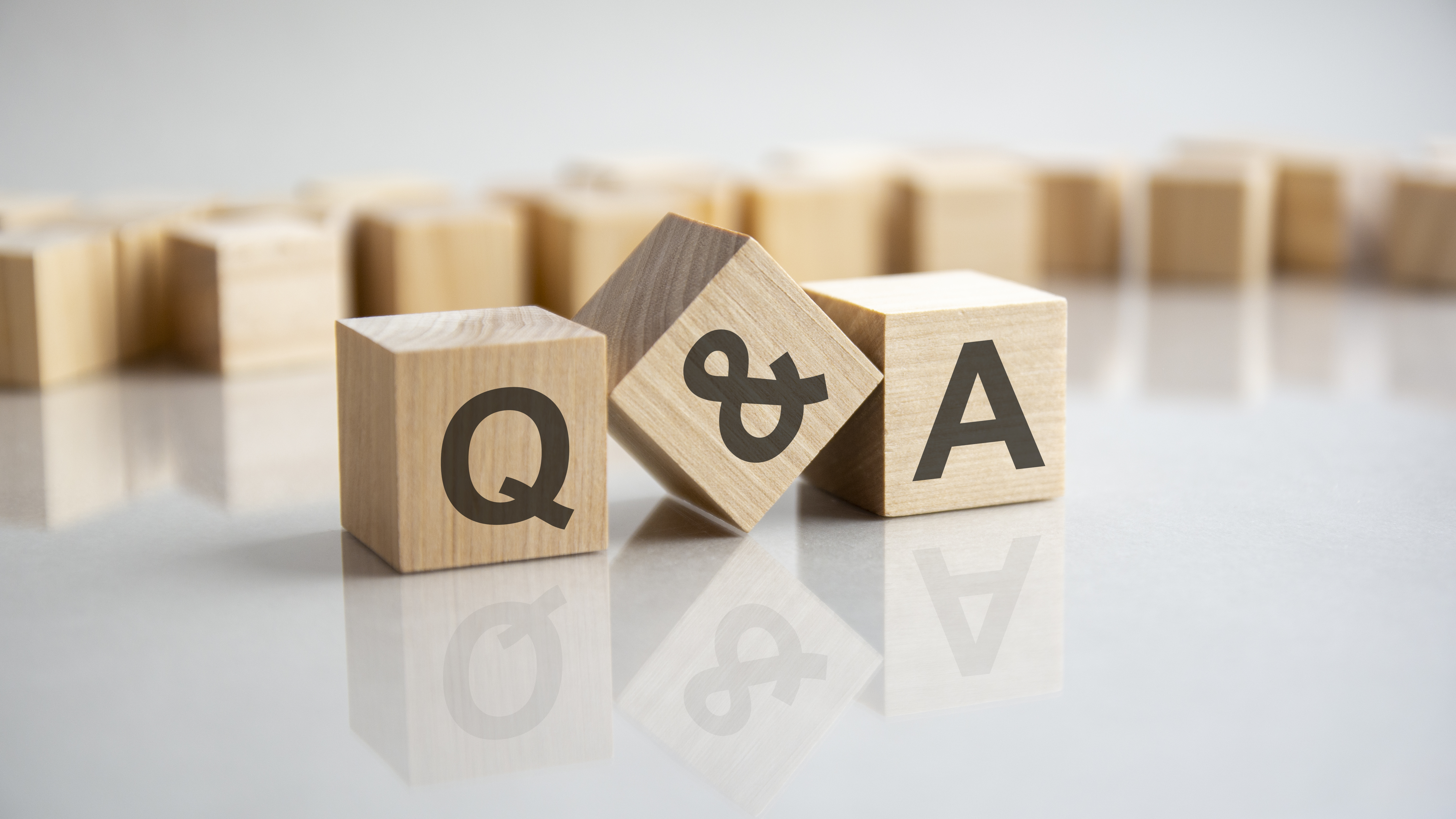 The original BERDO, or Building Energy Reporting and Disclosure Ordinance, was enacted in 2013 and started as a reporting ordinance modeled after New York City's 2009 Local Law 84. Large buildings in the City of Boston were required to collect and report their energy use to the city. The City of Boston published the information, with the aim to nudge gradual improvement through better measurement, tracking and transparency. Every five years, buildings were required to complete an "energy action," which often was an energy audit.
Over the last ten years, there is a recognition that tracking should focus on greenhouse gas (GHG) emissions along with energy consumption. With the passage of the new rule in the fall of 2021, BERDO got a revised name: it is now the Building Emissions Reduction and Disclosure Ordinance. BERDO 2.0, as it is informally known, presents significant changes for many of Boston's building owners and operators.
What buildings must comply?
BERDO 2.0 applies to Boston buildings that are:
non-residential buildings over 20,000 square feet,
residential buildings with 15 or more units,
and/or any parcel with multiple buildings that adds up to 20,000 square feet or 15 units.
The City of Boston's list of covered buildings can be found here.
What are the emissions performance standards?
With the new BERDO 2.0 emissions rule, buildings will be required to stay below an emissions cap defined by the City and specific to each type of space classification (i.e., healthcare spaces will have different targets than office or retail spaces). For example, beginning in calendar year 2025 (which would be reported in 2026), college and university buildings will be required to emit less than 10.2 kilograms of carbon dioxide-equivalents per square foot of floor area (kg CO2e/sf/year). Technology and science buildings will be capped at less than 19.2 kg CO2e/sf over that same year. This change makes it important to accurately characterize the spaces in your building to ensure that your emissions performance is being compared against the correct emissions standard. A university building with most of its floor area used as laboratory and science space should be compared using a blended value which is closer to the higher "Technology/Science" emissions standard than the lower "College/University" emissions standard. All building owners and operators will need to be accurate with their space characterization so that they are measured against an emissions standard that is right-sized. Below is a list of the current performance targets published in the ordinance.
BERDO 2.0 CO2e Emissions Standards by Building Use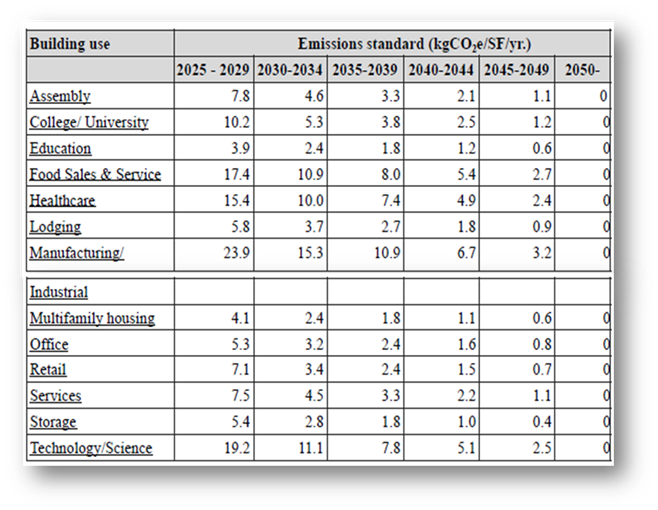 When will the emissions performance standards be enforced?
The first year the performance standards will be enforced is 2025 so there is time to prepare. Buildings that exceed the emissions standard will be required to pay a fine.
Most building owner and operators are already tracking and reporting energy use as mandated by the first version of BERDO. Those who've paid attention to the calculated emissions values from that process may recognize the challenges in achieving the new performance standards of BERDO 2.0. Many buildings will have serious consideration of the level of effort including tenant communications, engineering, service disruption, and investment, to meet established performance targets. Now is the time to begin preparing.
How do I begin preparing for the emissions performance standards?
These emissions performance caps are challenging enough that building owners and operators should start planning and taking steps now. Begin by engaging a team of qualified advisors. Look for firms that can review your energy and emissions data to assess where your building and portfolio stand with respect to the 'Building Use' types and upcoming emissions caps. They can advise on optimizing your energy consumption and emissions without negatively impacting your building operations or performance. You'll want to consider strategic changes like electrification, fuel switching, and capital projects. A qualified firm will help you analyze energy costs, tariffs and retrofit costs while considering regulations, market variability and risk to support the right decisions at the right time. Balancing energy cost and risk with emissions considerations will be important. You may have some of these relationships in place, but now is a good time to re-assess and make sure you're covered in all aspects and aligned with the BERDO requirements.
What information is required to be reported?
Specific information required to be reported includes data entered into EPA's Portfolio Manager tool for energy and water usage along with information including:
Energy consumption data by fuel type and meter (which are used to calculate CO2e emissions)
Building uses and associated floor area
Any applicable Renewable Energy Certificates (RECs)
Any applicable Power Purchase Agreements (PPAs)
Details about any onsite power generation or electric vehicle charging stations
Contact information for building ownership/management
Do my reports require a third-party verification?
Yes, beginning in 2022, all BERDO-regulated buildings must have their energy reports verified by an independent, credentialed third party. This verification will help Boston ensure that this year's data is accurate and help to establish a proper baseline for all affected buildings. For building owners and operators, this means you'll need to engage a professional engineer (PE), certified energy manager (CEM) or similar credentialed party who is not part of your organization to confirm that your energy reporting is accurate and complete.
Can I use the same firm to help prepare my BERDO reports AND to provide the third-party verification?
If you already employ an organization to help you with BERDO reporting, they can perform a verification as long as a different, credentialed individual is responsible and signs the forms.
Is there a penalty for non-compliance?
Yes. Failure to comply with reporting requirements can result in daily fines of $150 to $300 depending on size of the property. Failure to comply with emission standards can result in daily fines of $300 to $1,000. Additionally, buildings owners/operators may make alternative compliance payments for any exceedances to the emissions standards at a price of $234 per metric ton of CO2-equivalent.
What is the reporting deadline?
Reporting and verification for the prior year's energy use are due by June 15 of the following year. Energy use from calendar year 2021 must be reported by June 15, 2022.
Can I file for an extension to the reporting deadline?
Yes, Boston is granting an automatic six-month extension to December 15, 2022, but only if you request it. You must request an extension here through the BERDO reporting form. In addition to requesting an extension, this same form will allow you to claim your properties, manage your contact information, and to submit paperwork for your third-party verification when the time comes.
How can EH&E help?
We can compile, review and submit your building data. EH&E is also listed by the City of Boston as a qualified provider for reporting verification. Our expert team can provide both reporting and verification services (conducted by a different individual than the reporting individual).
Looking to the future to meet 2025 emissions standards, EH&E can also help you identify emissions reduction opportunities to help achieve performance targets. Our team has extensive experience with building commissioning and energy optimization so we are keenly focused on solutions that will not compromise your building's performance. Contact us today to speak with one of our experts.
Additional Resources:
BERDO Reporting How-To Guide
BERDO Data and Resources
BERDO & BEUDO Compliance: What You Need to Know – and What You May Not Have Considered
EH&E's BERDO Energy and GHG Analysis – An Interactive Dashboard
---
---
Subscribe to our blog:
"*" indicates required fields
Contact EH&E today to speak with an expert.
When it comes to understanding potential hazards, you can't take the risk of not acting.