Jack McCarthy video chat: Protocols developed during the Ebola outbreak still hold true for air travel during the COVID-19 pandemic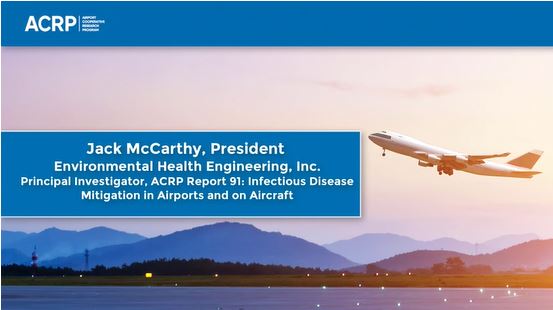 In response to the Ebola outbreak, EH&E worked with the National Academies of Science to develop a guide on Infectious Disease Mitigation in Airports and on Aircraft. In this brief video Jack talks with the ACRP (Airport Cooperative Research Program) on how this guide is still relevant during the ongoing coronavirus pandemic.





A few highlights from the video:
What are the three most significant research findings presented in the guide, Infectious Disease Mitigation in Airports and on Aircraft?
There were three key findings:
Although there is an assumption that airline travel is a risk for developing infectious disease, the data that currently exists does not support that.
The fact that aircraft personnel as well as ground crews are very effectively trained can be leveraged to help implement various protocols that will minimize risk to the traveling public.
There are standard, basic protocols that can easily be implemented as part of a healthy traveler program such as making hand sanitizing stations widely available, improving ventilation, both in the airport terminal area, as well as on aircraft. And then finally ensuring that while aircraft are parked at the gate that ventilation systems are running.
What can airports do to help mitigate disease transmission?
Airports can implement a couple of basic procedures to try to mitigate potential exposures. That involves ensuring that the infrastructure is operating as designed and intended, and that means doing air balancing and testing, ensuring your filtration is maximized (e.g., MERV 13 filters); and putting a healthy traveler healthy worker program in place. Also providing support through ensuring that the different groups that have responsibility for different areas of the airport and air travel are harmonized in understanding what needs to be accomplished, and the different methods that they have available to them to ensure that they are working together and maximizing their ability to implement these standardized protocols.
The guide on Infectious Disease Mitigation in Airports and on Aircraft predates COVID-19. How relevant are the findings today?
The findings are directly applicable to what we are observing with the COVID-19 pandemic. We understand how infectious organisms can be transmitted and how they can move about. Taking the protocols and the procedures recommended in the guide and applying them to deal with Covid-19 is very effective in helping airports and airport personnel stay safe and ensure the safety of the traveling public.
---
Check out our latest insights.
Your single source for environmental engineering expertise.