Congressman Jake Auchincloss visits EH&E as part of the American Rescue Plan tour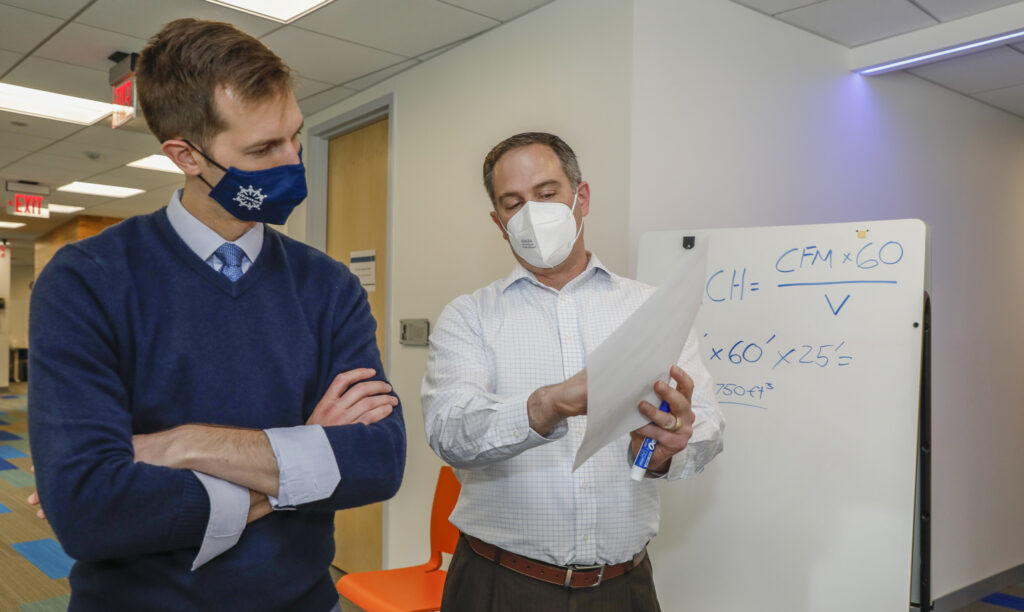 April 7, 2021 – Congressman Jake Auchincloss, representing the fourth district of Massachusetts, visited EH&E's headquarters (Newton, MA) to gain a better understanding of the critical role ventilation serves in mitigating the transmission of SARS-CoV-2 in schools to ensure safe and healthy environments for students and teachers.
"I have been vocal since last year that our students need to be in schools," Auchincloss said. "One of the greatest tragedies of the pandemic is our students' learning loss, particularly amongst our youngest learners. As a Congressman, my first priority was getting kids back in class, and we are getting that done."

The American Rescue Plan includes nearly $130 billion to support K-12 schools with their short- and long-term needs to safely reopen and operate. These funds can be used to implement mitigation measures to slow the spread of the virus, including improving ventilation.
"There is clear evidence that the built school environment is essential for fostering students' success," said John McCarthy, President/CEO of EH&E. Since last summer EH&E has been working with public and private schools across the US, developing plans to reopen and maintain safe operations during the pandemic. These plans have successfully stemmed the transmission of the virus by layering non-pharmaceutical interventions and monitoring these measures to verify compliance and efficacy. Integral to every plan is improving ventilation in the school's buildings.
EH&E shared with Auchincloss measures that can be taken to improve ventilation in schools. Auchincloss met with Matt Fragala, Managing Principal Consultant, who has directed this work for the past year, and some of his team members, including Will Wade, Principal Consultant; Kathleen Brown, Senior Scientist; Tania Alarcon, Senior Scientist; and Valdimir Albin Jr., Technical Specialist II.
Read this blog post for insights from our discussion with Congressman Auchincloss on strategies for mitigating transmission of SARS-CoV-2 in schools.
---
Check out our latest insights.
Your single source for environmental engineering expertise.