California adds "Forever Chemical" PFOA as a known carcinogen to Prop 65 List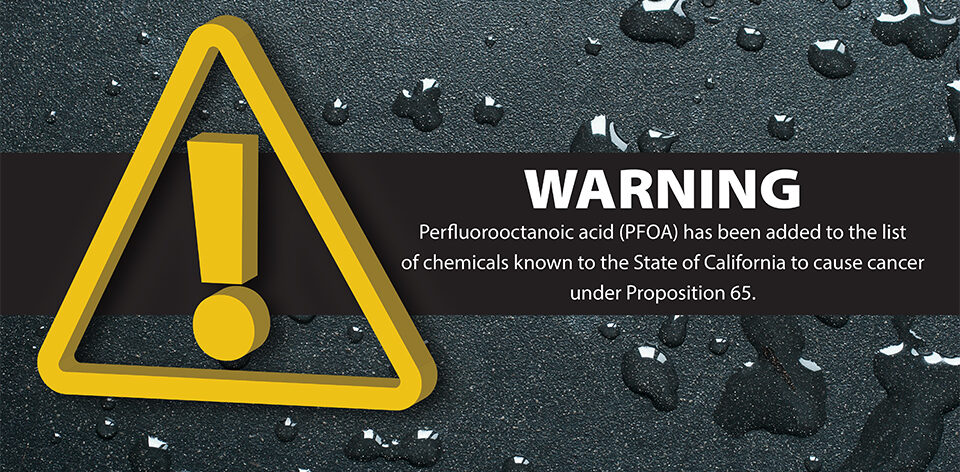 As of February 25, 2022, California's Office of Environmental Health Hazard Assessment (OEHHA) has officially added perfluorooctanoic acid (PFOA) to the list of chemicals known to the State of California to cause cancer under Proposition 65 (Prop 65). PFOA had already been listed as a Prop 65 chemical by OEHHA in November 2017 as a reproductive toxicant. This recent development was preceded by the OEHHA Notice of Intent to list PFOA as a carcinogen that was published nearly a year ago in March 2021. The new determination by OEHHA that PFOA is also a carcinogen may require companies who sell products in California to reconsider their warning labels.
PFOA is in the class of chemicals called per- and polyfluoroalkyl substances (PFAS), which were used for decades in hundreds of consumer products. PFAS are commonly referred to as "forever chemicals" because they are extremely persistent lasting thousands of years in the environment and build up in people's bodies and can be passed from mother to child in the womb and through breast milk.
What is Proposition 65?
California's Proposition 65, also known as the Safe Drinking Water and Toxic Enforcement Act of 1986, requires that a consumer be provided with a "clear and reasonable warning" if a listed chemical is present and there is a potential for exposure. Prop 65 currently contains more than 850 chemicals identified by California as known to cause cancer, birth defects, or reproductive harm. It is important to note that Prop 65 is applicable to companies located in California AND to companies (including ecommerce businesses) that sell products to anyone in the state of California.
Safe Harbor Levels for PFOA Still Forthcoming
For carcinogens, the Safe Harbor Level is referred to as the No Significant Risk Level (NSRL), which is the exposure threshold for a lifetime exposure to a chemical. An NSRL has not yet been developed by OEHHA, but it has set a Public Health Goal (PHG) of 0.007 ng/L for PFOA in drinking water based on PFOA's carcinogenic endpoint. Using the PHG as a guideline and OEHHA's method for developing an NSRL, it is possible that the NSRL for PFOA may be set at 0.00027 µg/day for a lifetime exposure to PFOA. However, this remains to be seen, and until the NSRL is officially developed, the burden is on companies to either ensure that exposures to PFOA remain low or to provide an adequate warning. Nevertheless, with increased consumer awareness of chemicals like PFOA, it may be beneficial for product manufacturers and suppliers to consider PFAS-free products from a product stewardship standpoint.
Additional Federal and State Actions are Expected
PFOA is a ubiquitous manmade chemical that was historically used in the manufacture of Teflon, Goretex, and various other consumer and industrial products. Despite the decline in PFOA use in the US since the early 2000s, Americans continue to be exposed to residual levels in drinking water, air, food, and consumer products. The regulatory interest in PFOA and other similar chemicals (PFAS) has grown in recent years, and further federal and state actions are expected in the coming months and years. For example, US EPA proposed new draft reference dose levels in November 2021 for PFOA and PFOS that are several orders of magnitude below those used for developing the Health Advisory in 2016. Pennsylvania also proposed new Maximum Contaminant Levels (MCLs) for PFOA and PFOS in drinking water just this week.
EH&E has over two decades of experience in helping clients navigate the complex world of Prop 65, routinely advising on product testing and exposure assessments for compliance in addition to appropriate label requirements. Contact us to speak with an expert.
---
---
Subscribe to our blog:
"*" indicates required fields
Contact EH&E today to speak with an expert.
When it comes to understanding potential hazards, you can't take the risk of not acting.